Wednesday, March 31, 2021 / by Barbara Oleska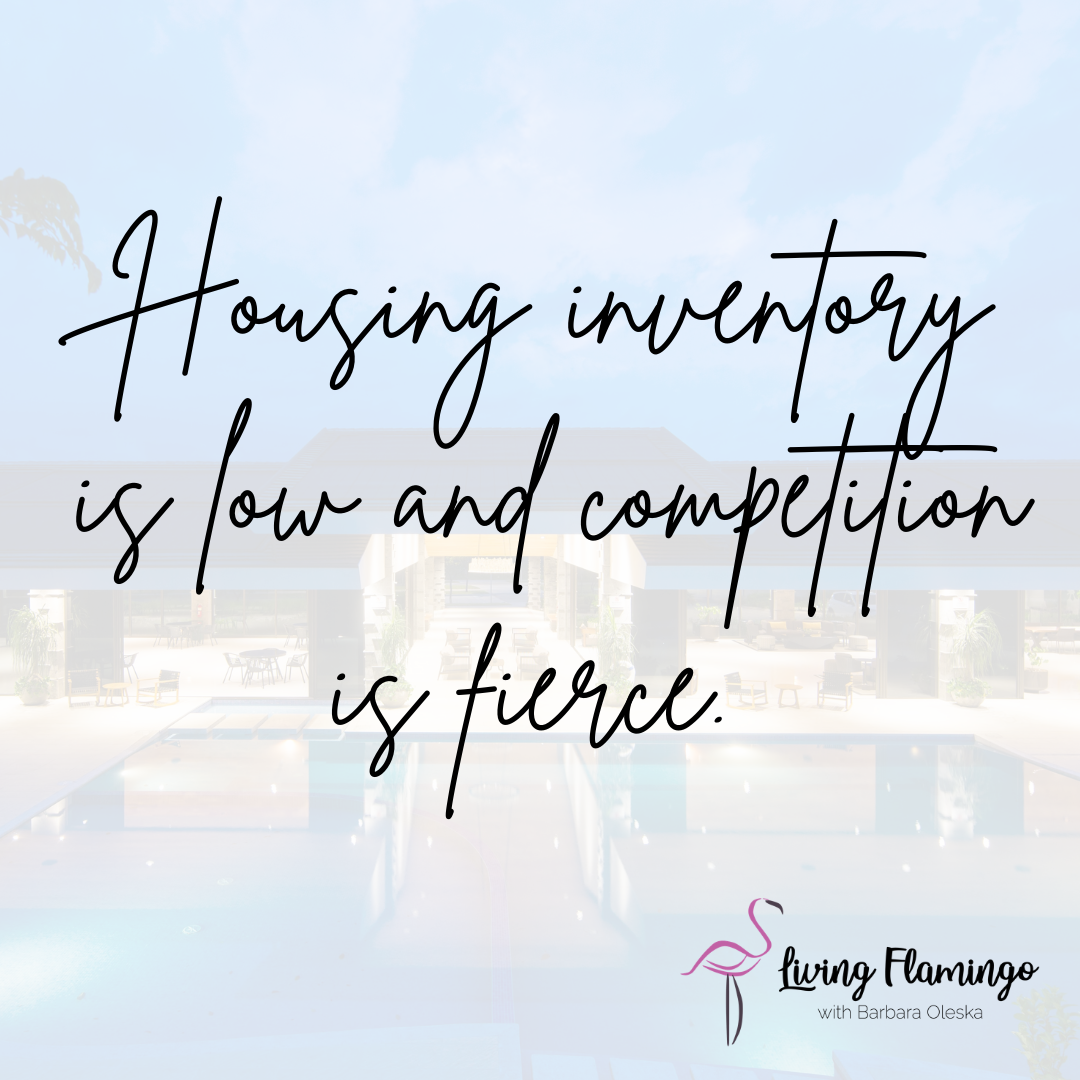 Do you know what you want? Do you have the will to win?
Housing inventory is low and competition is fierce. It's not a game for the faint of heart. If you know what you want and you have the will to win, with a great coach you will be victorious.


A beautiful home attracts attention. These days, too much attention! 10 to 20 offers are not unusual. Unfortunately for some buyers, they are pushed to the sidelines, but if you can come on strong, you can take the contract.


Be aggressive. Be, be aggressive.


It's a seller's market. That's reality. In some segments of the market we have less than a month of supply. That means that if no new properties came on the market there would be nothing left to buy in a month (Sellers, before you get too happy, slappy with that information, stay tuned for a future post about why homes fail to sell even in a smoking, hot market!).

Be aggressive with price and terms. Make sure your agent is strategic and on the phone pulling as much information out of the listing agent as possible looking for any advantage to put you first in line. Agents should keep their client's information close (although many don't), but a sharp and seasoned agent can glean clues from even snippets of vague information.

For terms, find out what is important to the seller. It's not always what you might think. Match those terms as well as possible. In the end, though, it's almost always about the money. If the price is right, sellers can usually make anything else work.
"I don't want to get into a bidding war." Well then, don't. Your agent should be able to figure out the number needed to take the contract. If that number works for you and you would be disappointed if you lost the home at that price, then offer that and that's that. A couple caveats:


1. Your agent needs to be very skilled at pricing, reading the market, and intuitively sensing where the other offers are.


2. SPEED! Making offers and winning contracts is not a passive game! Just because it says on the MLS that the seller isn't reviewing offers until Monday and it's only Saturday, don't believe it! Just because showings don't start until tomorrow doesn't mean they don't already have offers. If you are pretty sure you love the house, submit the offer and go see it tomorrow. If it's not what you thought it would be, rescind the offer. This market is not patient. Make your offer now and your relentless agent should be in there pushing to get it signed NOW before another offer comes in that's higher. And that happens. All the time.


Cash is king. Yes, of course, but right now especially so.


"I need to finance the purchase." It is possible to win with financing, but you'd better be with a crack lender and agent known to ALWAYS close deals, a fierce agent who knows how to sell you to the seller and listing agent, and you'll have to put a big kiss on the offer.


Another option if you could get the cash but prefer financing to take advantage of interest rates is to offer cash and finance on the backend. No one cares how you pay for the home, just as long as you show up with the money at closing! WARNING: A cash contract does not protect you with a financing contingency so if anything goes wrong with your financing and you don't close, you may lose your deposit. It might be possible to negotiate a solution, but no guarantee.


You have financing options. If you choose a traditional mortgage, generally you will lose the advantage of speed because you will need time to close, but in a crunch and if you provide underwriting quickly with your information, the timeline can speed up.


WARNING: If actually closing with cash would be extremely inconvenient, make SURE your lender is committed to and capable of communicating and closing the loan in the requisite time. Big banks, even in the private client divisions, work on their own timelines and can miss deadlines. Your agent should have a reliable and trusted local, direct lender able to adhere to the contract dates. I always recommend a local, direct lender, especially when the stakes are high, because the process is controlled and you aren't chasing the loan around different departments all over the country.


If your cash is readily available, you can choose to close with cash and finance after closing which gives you the option to offer a quick closing. For six months after the closing the financing will still count as a new purchase financing.


If you are enjoying this journey into my brain (I love this stuff!) stay tuned for future blogs about the subtle art of contract strategy!
---